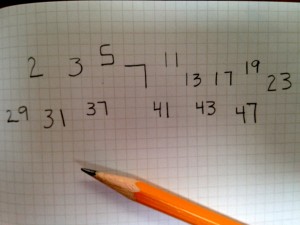 Math has never been my strong suit and yet I think about prime numbers as I hit one this year. A prime number is only divided by itself and one. Somehow that seems appropriate for the woman who is not a part of two and often the third or fifth or seventh wheel—all prime numbers. Yet, I am—like the definition of prime numbers—greater than one. And, I believe others are too. I'm greater than one because I have the fortune of many friends. While there is much that makes this life worthwhile: beautiful sun-filled days, afternoons by the ocean's edge, running and biking, and of course coffee, I sometimes forget how my life is filled with interesting people and many good fortunes. I don't think I'm alone in this forgetting.
I imagine many of us lose sight of fortune in the reality that life can be a struggle especially when faced with loss. I think of my friend whose mother passed last week, and an old friend I'm visiting this week whose arthritis limits her movements, and another friend who recently lost his job. As they are faced with these struggles, my hope is that they do not doubt the certitude of having people who care. For those friends who struggle, I would like to make life better for each of them but sometimes I feel I cannot because I am only one– one person with limited talents and limited resources.
But if I am held back with this thinking then maybe others are too, and if we all think our sum of one does not make difference then what happens? I think we lose out on the opportunity to make a difference for another.
I cannot promise that I will always be the one to act right and make a bad situation better, but if I truly believe that I am greater than one, and that everyone else is too, then we can at least try.
As I turn toward this prime number year, I think of those things I am grateful for and right now it starts with being in my prime of gratitude and giving.