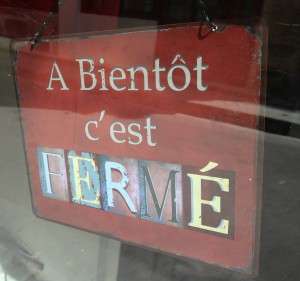 It is time to Close…
People in France—both the natives and visitors—kept saying Paris shuts down for the month of August. The Parisians go away to the coast or further. They vacate the city. I believed what I heard, but I figured it was a bit of an exaggeration. I am sure a lot of people take their summer vacations in August. The school year is out, Bastille Day has passed, and it is hot—even here in Paris. But I was suspect to believe that I would notice it. In a city with over 2 million residents, you can't possible think that a few folks leaving for vacation would be noticeable, but it is!
The market in the square outside my apartment, pulled its heavy metal doors down last Sunday and they have not been lifted since. Madam Paulette, where I enjoy morning coffee, goes just outside Paris each weekend and will head there for a month after next week. Cafe Universal, where jazz can be heard six nights a week will suspend those gigs for the entire month. Other Tobac shops, restaurants, and stores have also pulled the doors closed. The small businesses are not alone. The post office began its abbreviated hours, closing at 1pm for the next month and my favorite Luxembourg Museum is also closed.
Yes, it is true if you went to the Eiffel Tower to watch the lights or if you decided to go to Musee de Louvre this week, you would stand in line. You would find crowds at the popular Deux Magots on Saint Germaine, but if you go a few streets away from the high traffic areas, the absence of hustle and bustle is noticeable.
While I may stand amazed and others may stand inconvenienced, it is a wonderful reality that there are people in this world and places in this universe where taking a break is not just wanted, but expected and accepted. It is not the same as the random two week vacation or the long holiday weekend. Rather, it is a practiced annual mindset to slow down and escape the day to day life. I am sure the practice is slipping away more and more, but maybe we can take a lesson from the French. Maybe in our own life, in our own routines we can set time aside—before school starts, before holidays creep onto the horizon, and just inhale the calmness of the moment. It may not last a whole month, but what if it lasted for a few days? Maybe that would be a good place to start. A place that allows us to shut down and open up.