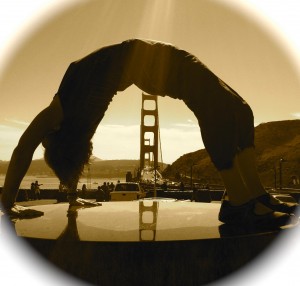 Welcome to Think-Yoga website! Below is information about Ann, but if you are looking for information for the May 2018 Yoga Retreat with Ann and Heather at Mayacamas Ranch in Calistoga, California, we are sorry that the event has been canceled. Mayacamas Ranch was one of the victims of the devastating fires in the wine country of California. We are looking for another venue and will post as soon as we have one! Thank you for your interest.
Ann brings to her yoga practice a love for learning. As a runner, hiker, and swimmer she appreciates all the body can provide and acknowledges the limitations we all experience. From tight hamstrings and lower back strain to more serious life-threatening challenges, Ann believes yoga has something to offer everyone. As a perpetual student she regularly attends classes, workshops, and certification programs to heighten what she can offer others.
A graduate of The Triad Yoga Institute in Greensboro, NC, Ann received her RYT certification from the 330-hour program. Her interests have drawn her to explore Myofascial Release and restorative yoga as well as learning yoga therapy for people with cancer and chronic illness.
Each New Year's Day, Ann leads a city-wide Loving Kindness Meditation at Center City Park in downtown Greensboro, NC. All are welcome to start the new year off by spreading their Mette Bhavana. In conjunction with completing her MFA in Creative Writing, Ann has expanded her offerings to lead workshops in Cultivating Creativity through Movement and Meditation. She has worked with groups from both coasts and Mexico.
In September 2014, Ann traveled across the U.S., camping her way as she explored state and national parks. She taught yoga along the way and landed in the beautiful community of Sitka, Alaska, for several months. This summer Ann will relocate to the East Bay of California and looks to connect with others in the yoga community. She continues her blog on Think-Yoga, but invites you to join her traveler's blog for the Camping Yogini:
camperchickadventures.wordpress.com